Physicians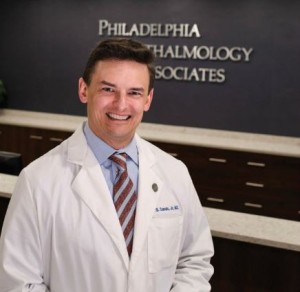 Ralph S. Sando, Jr., M.D.
Dr. Ralph Sando, Jr. is a board-certified comprehensive ophthalmologist who has been in private practice since 2001. He is the Chief of the Ophthalmology Service at Bryn Mawr Hospital and the Director of Philadelphia Ophthalmology Associates in Ardmore and Philadelphia, Pennsylvania.
Dr. Sando primarily performs cataract surgery but treats most ocular diseases including but not limited to the management of glaucoma, macular degeneration, diabetic retinopathy and dry eye syndrome. He holds teaching appointments at Wills Eye Hospital, Thomas Jefferson University and Temple University and has published articles and given numerous lectures on various topics within the field of ophthalmology. He is an avid skier and also enjoys playing golf, tennis, paddle tennis, lacrosse and hockey. He is married and loves watching his children grow as artists, athletes, and adventurers.
Dr. Sando attended Episcopal Academy before receiving a bachelor's degree from Yale University, where he was awarded the Meade Cup for leadership. He won an Ivy League Championship as a member of Yale's lacrosse team. Dr. Sando then attended the Temple University School of Medicine, where he was elected to the Alpha Omega Alpha Honor Medical Society (the medical school equivalent of Phi Beta Kappa). He completed a transitional internship at the Crozer-Chester Medical Center before returning to Temple for his ophthalmology residency, in which he served as chief resident.
Philly Mag Top Doc – Dr. Ralph Sando, Jr.
Jennifer R. Lynn, M.D.
Dr. Jennifer Lynn is a board certified surgeon with specialized training in both ophthalmology and cosmetic surgery. She received her training at Wills Eye Hospital. A fellow of the American Academy of Ophthalmology, Dr. Lynn is an active staff member at Wills Eye Hospital as well as at Bryn Mawr Hospital, which as been named one of the top 100 hospitals in the United States.
Growing up in a family of educators, Dr. Lynn combines her commitment to health care with her interest in education. Dr. Lynn entered the field of medicine with a singular mission: to make a difference in the lives of her patients. Educating her patients about their eye disease and including them in the discussion and care of their eyes enables her to achieve her goal. Dr. Lynn always strives to integrate the latest techniques and technology to assist in obtaining the best result for her patients.
Dr. Lynn specializes in disorders of the eyelids including blepharoplasty, ptosis repair and entropion and ectropion repair. Additional cosmetic procedures she performs include BOTOX® and Juvéderm® administration. She also cares for general eye diseases such as diabetes, glaucoma and macular degeneration. Dr. Lynn is married and has two daughters.